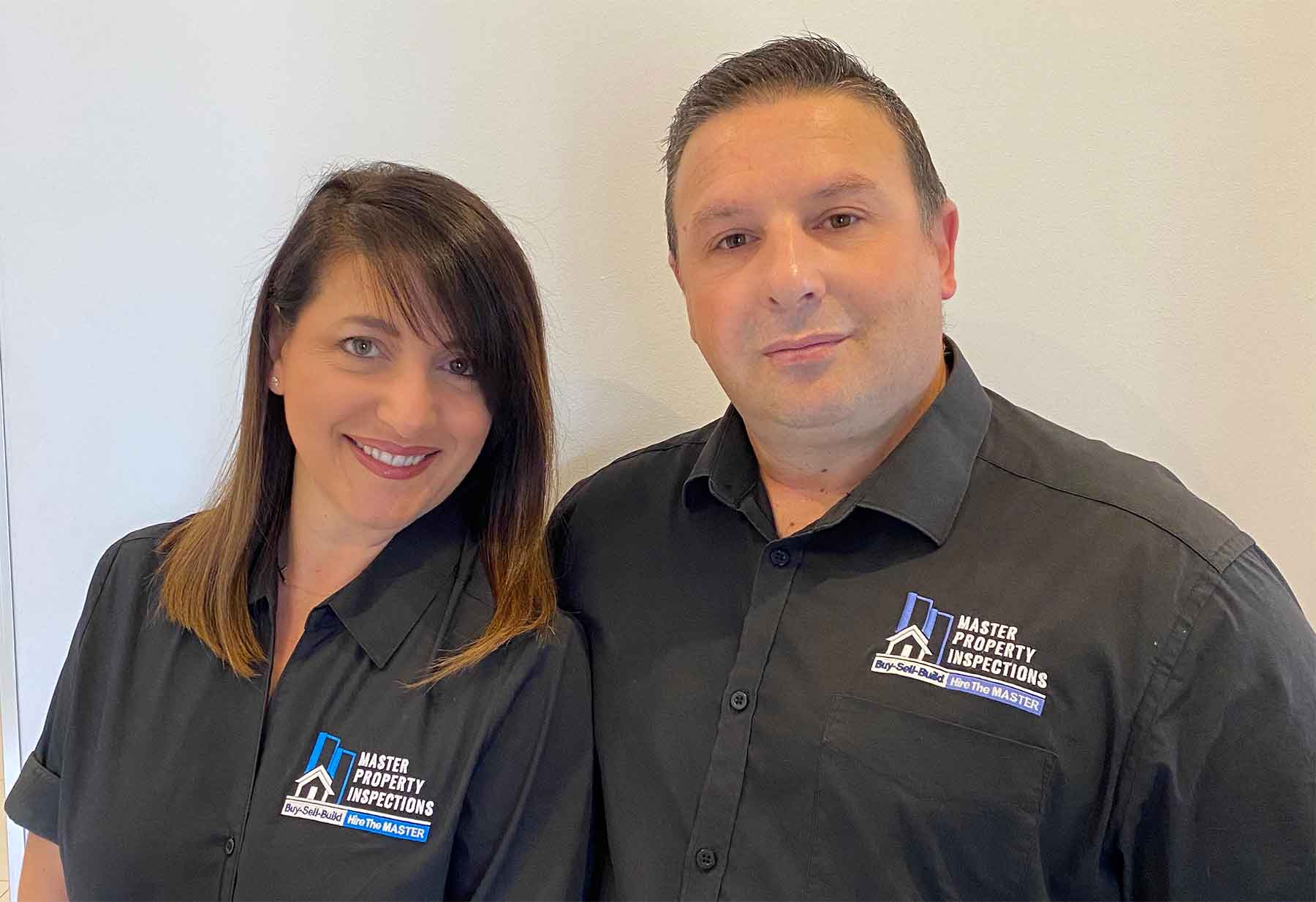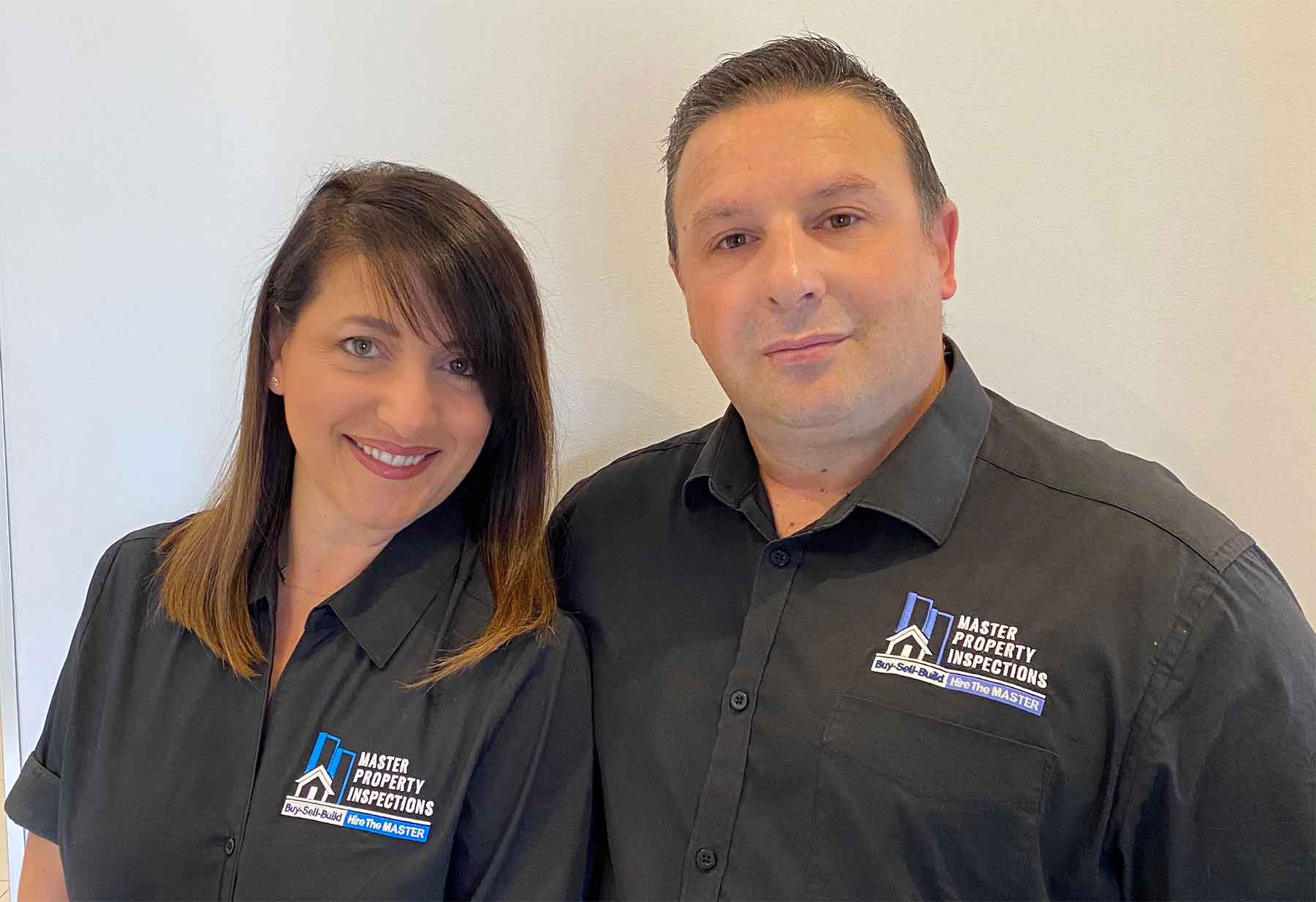 ABOUT LES AND THE MASTER PROPERTY INSPECTIONS TEAM
Master Property Inspections boasts 30 years of building experience.
Founders Les and Annette Camilleri are a husband and wife team who bring an immense dedication to the task at hand when it comes to providing building inspection and reporting services to our many satisfied clients.
We completely understand the pressures that come with buying a property.
Whether purchasing your first home, the new family home or an investment, each and every property purchase is as important as the last and with so much money riding on getting the decision right, you want to make sure the investment you make is the right one.
With Les' 30 years of experience in the building industry and Annette's expertise as a registered BAS agent, you can be confident in our ability to provide you with an inspection and report that covers everything from the structural condition of the property to depreciation schedules.
Get the full picture BEFORE you settle.
Les is accredited as an A-Grade electrician and holds a contractors license as well as all other required certifications as an expert in the building industry. 
Les offers Electrical Visual Defect Inspections as an added service to accompany his Building and Termite Inspections, which is a major bonus for our clients.
Having his A-Grade Electrical license is of great benefit when doing building inspections as electrical defects are common fire hazard within the household.
Les has lived in Victoria all of his life and developed successful businesses in the building industry.
He has been involved in numerous building projects from commercial shop fitting to upper market domestic quality homes.
Les has a keen eye for detail and appreciates high-quality work finishes and accepts nothing less from his team when performing new construction inspections, pre-purchase building or any of the other inspections the company provides.
And of course, whilst we place an extremely high value on the accuracy and detail of our reports, we are equally passionate about ensuring we communicate clearly with our clients at all times.
With Master Property Inspections, whether dealing with Les or a member of the team, you can always expect prompt communication during the course of your inspection and reporting.
Prior to founding Master Property Inspections, Les spent approximately four years with Jim's Building Inspections, where he consolidated his extensive building knowledge and practices.
Les can assist with all your property inspections needs, including:
Pre-Purchase Building for Major (Structural) Safety and Minor Defects
Termite & Timber pest
New Construction for All Stages
Dilapidation
Asbestos and Lab Testing
Electrical Inspections for defective wiring and defective workmanship and Safety Switchboard Testing
Rental Safety Inspections, including Electrical
VCAT Reports and VCAT court proceedings as an expert witness.
Depreciation Schedules
In founding Master Property Inspections, Les and Annette have worked tirelessly to perfect their reporting systems with one aim in mind: greater transparency, easy-to-understand reports and more efficient turnaround for our clients.
Our belief is that every property purchaser has the right to know exactly what they are buying and we work tirelessly to ensure our clients have a complete picture before they sign.
Our reports are simple to read, include detailed pictures as required and can often be turned around within two hours of our inspection.
It is this tireless dedication to perfection that truly makes us The Masters.
Master Property Inspections is fully insured with both professional indemnity and public liability insurance.
When it comes to buying property, time is often of the essence.
Whether the auction is fast approaching, or you're competing with another buyer on a private sale, you want to make sure you're in a position to make the best possible decision as quickly as possible.
But before you can possibly make the right decision, you need to have all the information at your disposal.
And you can't possibly have all the information at your disposal if you haven't conducted a building inspection.
When it comes to building a new house, a same-day building inspection report can also ensure you are well aware of any structural issues as early as possible at various stages of the build, helping you to keep your builder accountable and ensuring a far cleaner handover upon completion. 
The Master Property Inspections Advantage
At Master Property Inspections, we have over 30 years of building experience and can help provide you with a wide range of building inspection reports.
Our team has dedicated itself to perfecting our reporting systems and processes, as well as ensuring our reports are easy to understand without cutting corners on the crucial details, to the point where we can proudly offer same-day building reports.
In fact, we can turnaround most of our building reports within two hours (yes, you read that correctly) of completing the inspection.
Even if you don't receive your report within two hours of inspection, you will certainly receive it on the same day.
Our founder, Les, will not accept any less from himself or his team.
We have made this possible by spending years working with our IT application providers to ensure our building consultants are able to complete 80 per cent of their report whilst on-site and conducting their inspection.
This means your consultant is able to get all the detail into their report whilst they are on-site, rather than the old-school method of taking photos and notes and then having to remember all the little details that count when they get back to the office.
In doing so, we have created a process that ensures
Far greater accuracy and detail in our reports
Far greater efficiencies in report turnover time
Far better communication with our clients
When you get your building inspection and report completed with Master Property Inspections you get more than just a report, too.
You can expect a detailed conversation with your appointed consultant, running you through the detail of the report to ensure you completely understand the content of the report and any areas of particular concern.
Same-day pre-purchase building reports
A Master Property Inspection building report can help you identify:
Major Structural Building defects
Dangerous electrical and fire safety hazards, if you choose to add an electrical inspection to your report.
Termites and other timber issues
Pests
Serious movement to the building or flooring, known as subsidence.
Asbestos
Drainage issues
Minor maintenance issues
And much more.
Same-day reporting is crucial because when it comes to buying existing properties, you want to have all the information about the property you are purchasing before you make a decision.
We also go above and beyond the call of duty and pride ourselves on detailing minor maintenance defects which are over and above the pre-purchase Australian standards.
A same-day property inspection report could help you:
Negotiate a better price
Negotiate amendments to the contract of sale
Ensure issues are fixed BEFORE you settle
Avoid a costly mistake altogether
Same-Day Building Reports for New Construction
Master Property Inspections can help keep your new building on-track and keep you informed on the progress of your build with fiercely independent same-day building reports.
Just like our pre-purchase property inspections, you can expect through inspections and reporting, as well as detailed conversations with your appointed consultant to ensure you understand the report you have received and the details within it.
When it comes to same-day reporting for new builds, our reports can help you:
Identify issues as early as possible, at various stages of the build
Keep your builder accountable
Ensure your new building is defect-free
Ensure a better handover upon completion
Why you should trust Master Property Inspections with your same-day building report needs.
At Master Property Inspections we pride ourselves on our thoroughness and attention-to-detail.
Les Camilleri, our founder and principal inspector, brings over 30 years of building experience to your next property inspection.
As well as holding the required building consultant accreditation, Les has the huge advantage of being qualified as an A-Grade electrician, Les is particularly proficient when it comes to inspecting and reporting on a structure's wiring and electrical set-up.
Wiring and electrical issues can often be hard to detect but are one of the most common fire hazards in properties.
Les' keen eye for detail and experience in this space in particular means you won't get caught out with any hidden dangers.
The Master Property Inspections team can provide the following same-day reports:
Pre-Purchase Building for Major (Structural) Safety and Minor Defects
Termite & Timber pests
Dilapidation
Asbestos and Lab Testing
Electrical Inspections for defective wiring and defective workmanship and Safety Switchboard Testing
Our commitment to service means Les will not tolerate anything than the absolute best for his customers, meaning you can expect high-quality inspections, reporting and communication from every job we work on.
Get in touch with us today to arrange your next building inspection and report.